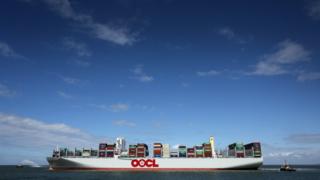 Chinese shipping hulk Cosco is set to buy a Hong Kong opposition OOIL for $6.3bn (£4.9bn).
The understanding would make Cosco a world's third biggest shipping company, with some-more than 400 vessels.
OOIL's infancy owners has supposed a bid, yet a sale will still need regulatory approval.
It would be a latest in a call of mergers, that has left a tip 6 shipping lines determining roughly dual thirds of a market.
Overcapacity struggles
OOIL's auxiliary OOCL is now a world's seventh largest shipping line, with 3.2% of tellurian marketplace share, according to shipping database Alphaliner.
Cosco is charity $10.07 per share, a 38% reward over OOIL's shutting cost on Friday.
The family of Hong Kong's initial Chief Executive Tung Chee-hwa founded OOIL, and still binds a 69% interest in a company.
They have supposed a offer, though it still needs a capitulation of Cosco shareholders, as good as US and Chinese regulators.
Overcapacity and negligence direct is heading to vital changes in a shipping industry.
Korean shipping hulk Hanjin filed for failure final year, while France's CMA CGM bought Singapore's Neptune Orient Lines.